Books
Boycotting Israel is Wrong: The progressive path to peace between Palestinians and Israelis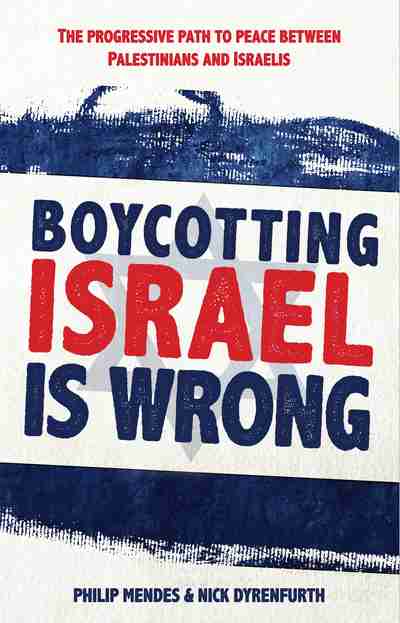 This is the first progressive book to argue that the BDS movement (boycott, divestment and sanctions) against Israel is the wrong way to broker peace in the Israeli-Palestinian conflict; rather, it argues that peace will come ony when both Israelis' and Palestinians' legitimate claims to statehood are recognised – by both sides.
The BDS movement (boycott, divestment, sanctions) against Israel has gained traction and publicity worldwide for a decade. Yet here, Philip Mendes and Nick Dyrenfurth – two politically progressive commentators – argue that BDS is far too blunt an instrument to use in such a complex political situation. Instead, they critically analyse the key arguments for and against BDS, and propose a solution that supports Israel's existence and Palestinian rights to a homeland, urging mutual compromise and concessions from both sides.
Mateship: A Very Australian History
A 'mate' is a mate, right? Wrong, argues Nick Dyrenfurth in this provocative new look at one of Australia's most talked-about beliefs.
In the first book-length exploration of our secular creed, one of Australia's leading young historians and public commentators turns mateship's history upside down. Did you know that the first Australians to call each other 'mate' were business partners? Or that many others thought that mateship would be the basis for creating an entirely new society, namely a 'socialist' one? For some, the term 'mate' is 'the nicest word in the English language'; while for others it represents the very worst features in our nation's culture: conformity, bullying, corruption, racism, and misogyny. So what does mateship really mean?
In Mateship: a very Australian history, Dyrenfurth explains why Australians from all walks of life have been so fixated on mateship and repeatedly claimed it as a uniquely national value. He brings to life mateship's extraordinarily rich and paradoxical history, showing how over more than 200 years of white settler history, shearers and soldiers, brickies and bankers, poets and politicians, and even the odd feminist, including the former prime minister Julia Gillard, have all identified with the national creed.
As Nick Dyrenfurth shows, if there is one aspect of Australian mateship that is unique in global terms, it is the inordinate time we have devoted to talking about it.
A Little History of the Australian Labor Party (with Frank Bongiorno), UNSW Press, 2011.
The Australian Labor Party is one of the oldest labour parties and was the first in the world to form a government. 2011 marks its 120th birthday. This short and lively book tells the story of the ALPs numerous successes in winning government at all levels and making policy that has transformed lives. The book also shows how the ALP has attracted an extraordinary range of members, parliamentary representatives, leaders, unionists, activists and, indeed, opponents. Whether their audience are Labor voters or not, writers Nick Dyrenfurth and Frank Bongiorno argue that it has been such a central force in Australia throughout the twentieth century that its history should be known.
Heroes & Villains: the Rise and Fall of the Early Australian Labor Party,Australian Scholarly Publishing, 2011.
On 13 April 1910, Andrew Fisher led the Australian Labor Party to a sweeping victory at the fourth federal election held since federation. By virtue of its double majorities in the House of Representatives and in the Senate, Labor became the first party of its type to take office in its own right anywhere in the world. Yet just six years later the ALP violently split in two over the issue of military conscription and was subsequently exiled from power for a generation. Why did early Labor enjoy such precocious success? And how could it all fall apart so rapidly? Heroes and Villains, a bold new interpretation of this formative phase in Australian Labor politics, explains why.
All That's Left: What Labor Should Stand For (edited with Tim Soutphommasane), New South Books, 2010.
After a tumultuous few months that have seen an election-winning prime minister replaced as leader by Australia's first woman prime minister, many people are questioning what Labor stands for. In this book, young, prominent thinkers, players and commentators – as well as some experienced politicians – tackle these questions in frank, personal and often surprising ways.
Contributors include Tim Soutphommasane, Nick Dyrenfurth, David Burchell, David Hetherington, Dennis Glover, Geoff Gallop, Tony Moore, Larissa Behrendt, Paul Howes and Lindsay Tanner.
Confusion: The Making of the Australian Two-Party System (edited with Paul Strangio), Melbourne University Publishing, 2009.
In Confusion, some of Australia's foremost political historians including Judith Brett and Stuart Macintyre revisit the seminal moment when liberals threw in their lot with the conservatives. In May 1909, Alfred Deakin, the radical liberal doyen, struck an agreement for a controversial 'fusion' with the anti-Labor factions, with the new grouping later adopting the name 'Liberal Party'. After a heated campaign, Labor won the 1910 election, forming the first majority government in the history of the Commonwealth. The Australian party system-as we still largely know it one hundred years on-had crystallised. How had this occurred? For most of the previous decade Labor and Deakin had been allies. Was the anti-Labor alliance the inevitable outcome of middle-class men rallying against the growing electoral might of the workers' party? What were the long-term consequences for both sides of politics? With Labor in power federally and in all but one state, the non-Labor side of politics has been plunged into a period of introspection about its coalition arrangements, and about the legitimate traditions of Australian liberalism. Can the current Liberals learn from the events of a century ago?